The 2025 World Expo in Osaka – Let JCD Support You!

In 2025 the World Expo will be held in Osaka! From April 13th till October 13th Osaka's Yumeshima Island will be dedicated to this major event. Are you interested in exhibiting?
JTB Meetings & Events by JTB Communication Design (JCD)
can help!
Using our experience with many expos, we will work closely with all related parties in events, pavilion management, ceremonies, hospitality, and official events. We provide production services that reflect the latest international best practices, including planning, coordination, operation, and promotion. Here is what we can offer you:

Operation / Management
- Organizing, planning, coordinating and managing
events, congresses, seminars, meetings, and trade shows
.
-
Web
design & promotion,
Exhibition
design & promotion.
-
Advertising
, promotion, and public relations.
- Planning and consulting on
customer-gathering
and exchange programs, regional promotion, sales promotion and human resource revitalization plans for
better corporate performance
.
-
Marketing research
and analyses, marketing solutions.
- Arranging for
interpreters and guides
.
- Management of systems development, office management,
IT solution
provision.
- Planning, development, office management for
membership organizations
, solution provision.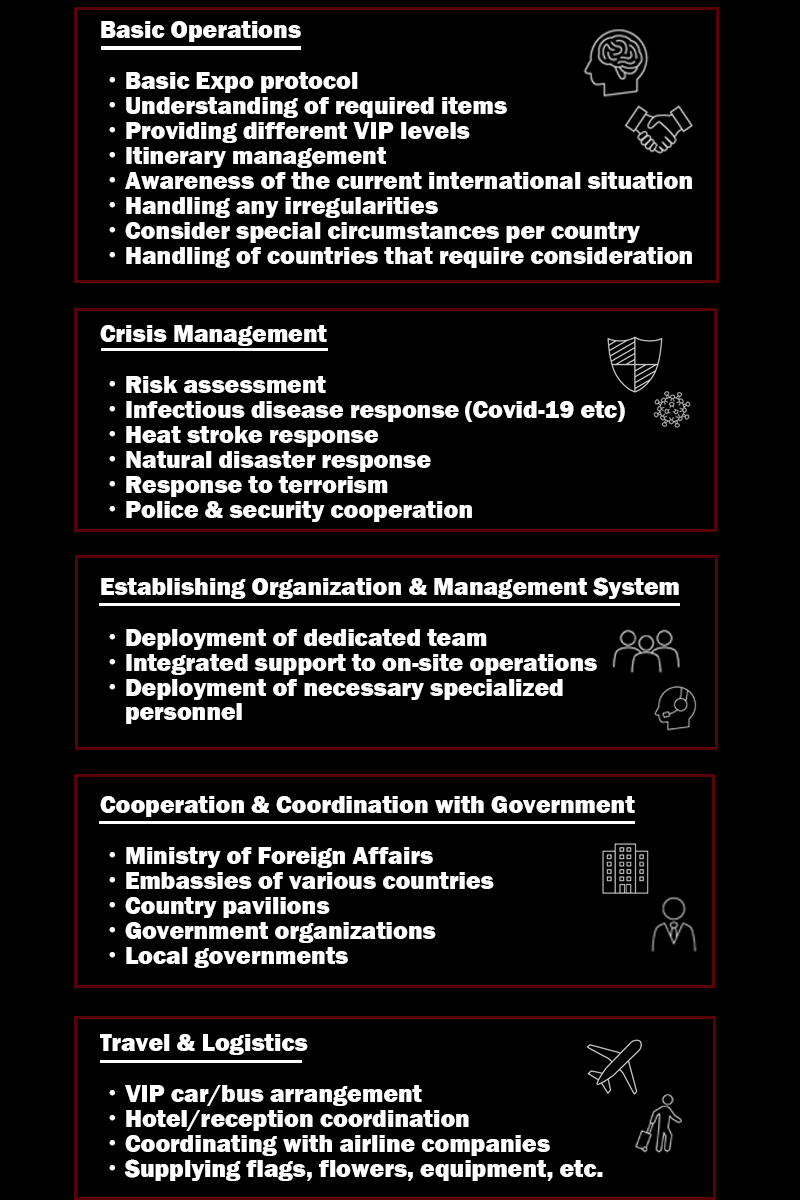 Past Examples of Our Work on Expos
Examples of Domestic Expos
-
World Expo 2005, Aichi, Japan
- Japan Flora 2000
Examples of Overseas Expos
-
2019 Beijing International Horticultural Exposition, China
-
Antalya International Horticultural Exposition 2016
- 2012 Floriade, Venlo, The Netherlands
-
World Expo 2010, Shanghai, China
Are you interested in the 2025 Osaka World Expo? We can assist you in the entire process, and help manage your pavilion! Don't hesitate to contact us here!