Have you decided on your Venue for your 2020 Event in Japan?
When it comes to MICE (Meetings, Incentives, Conventions, and Exhibitions), a lot comes into play: arranging transportation, accommodation and the venue itself. You might be putting in a lot of effort in preparing this year's meeting and events, but you should also begin looking at your plans for 2020 as starting early is key to avoiding the risks that are coming with arranging events in Japan in 2020.

The Japan Tourism Agency has set a goal to attract more visitors to Japan, aiming to surpass 40 million visitors in 2020. Especially in Tokyo, traffic and accommodation facilities may deplete under the influence of the world`s largest sports tournament taking place during the summer. This may cause a lot of confusion for visitors and many have voiced their concern.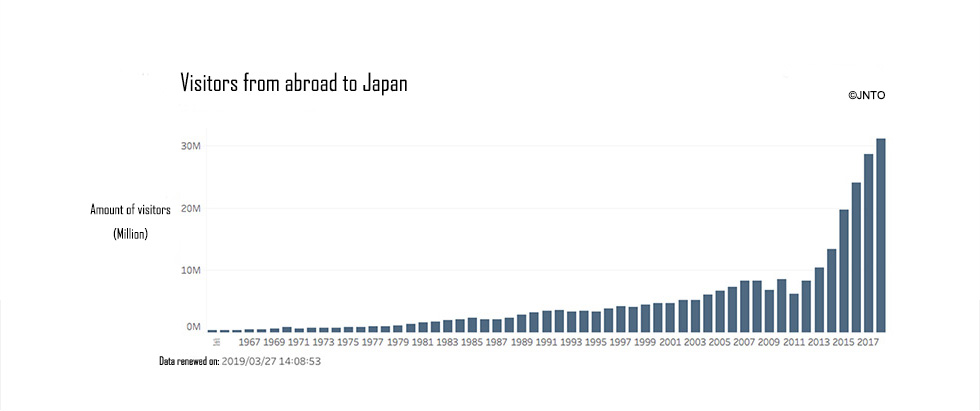 Japan Tourism Statistics by JNTO (as of March, 2019)
Transportation in the metropolitan area
The organizing committee of the 2020 sports event and the Tokyo Metropolitan Government joined forces to create a so-called "transport impact map". This map shows the expected congestion levels of the roads and railways in the downtown area during the tournament and published on the Tokyo Metropolitan Government website.

The "transport impact map".
Expected is that congestion on general roads around each venue and stadium will occur and that the time of travel by the Tokyo metropolitan expressway during the day could increase to three times the usual.
In addition, expected is that the railways will reach a passenger rate of 180% in the morning and evening rushes on the waterfront routes and others. Also, during the actual tournament period, expected is that trains that will fill up to 200% of its capacity will increase by 1.5 times during the morning rush.
Accommodation
It is said that during the tournament period, the urban areas of Tokyo and Osaka will face a shortage of about 44,000 rooms and expected to become a serious problem.
Many hotels and accommodations in Tokyo have offered their rooms to the organizing committee of the 2020 tournament. Considering the number of foreign spectators at past competitions as a reference, expected is that the number of foreign tourists visiting Japan for watching a game to reach around 200,000 to 400,000 people. Including Japanese spectators and other foreign tourists, estimated is that the number of visitors will reach about 2.6 million, making the required number of rooms about 1.73 million.
Although the number of rooms available varies with every hotel, considered is that many facilities have already been blocked due to the need for securing accommodation preparing the games in Tokyo. Predicted is that all the rooms will be fully booked because of spectators from both home and abroad, and it will be a difficult task to secure accommodation for other visitors.
Venues
Next to transportation and accommodation, the closure of exhibition facilities and venues are starting to affect meetings and events as well. For example, Tokyo Big Sight, a famous and popular event venue, has announced a total closure of five months starting from May 2020. More than 500 exhibitions and events that should have been held during this period will be either reduced or canceled because of this.
Under such circumstances, expected is that the shortage of venues will spread not only during the tournament period in 2020 but also before and after, making it difficult to arrange a venue throughout the year. If you are planning a meeting or event, we encourage you to make early inquiries and reservations.
A solution to the problem
As a countermeasure to transportation, accommodation and venue problems that are expected with the upcoming sport tournaments in Tokyo next year, we introduce one of the main solutions, that of "unique venues".
What is a unique venue?
A unique venue is a location that attracts and inspires attendees by using attractive structures and public spaces.
A unique venue oozes Japanese style, sparks regionality and gives a special, unique feeling to the venue. You can think of locations such as museums, historical buildings, shrines and temples, castles and outdoor locations (gardens, parks, shopping streets or public roads). In this way, it provides a more satisfying experience for the attendees.
The extra value that comes with a unique venue
・Unique venues bring a new solution to overcome the shortage of venues like hotels and exhibition halls.
・By using facilities and spaces that allow you to experience the local culture as well as alternative means, it is possible to produce a "special feeling" unique to that location.
・This "special experience" can have a positive effect on conveying the brand value of a company and enhancing the sense of its community.
・It becomes possible to impress your overseas attendees with the local Japanese culture.
・The overall satisfaction rate of your attendees will be very high.
Unique venues will bring a lot of added value, and a growing number of companies and organizations are actively introducing new forms of MICE.
Unique Venues show a "high satisfaction" rate
Utilizing unique venues not only solves problems for event organizers, but also the participants' satisfaction rate becomes very high, which attracts attention as a solution that enhances the experience value of meetings and events. This expectation reflects in the MICE satisfaction survey released by the Japan Tourism Agency: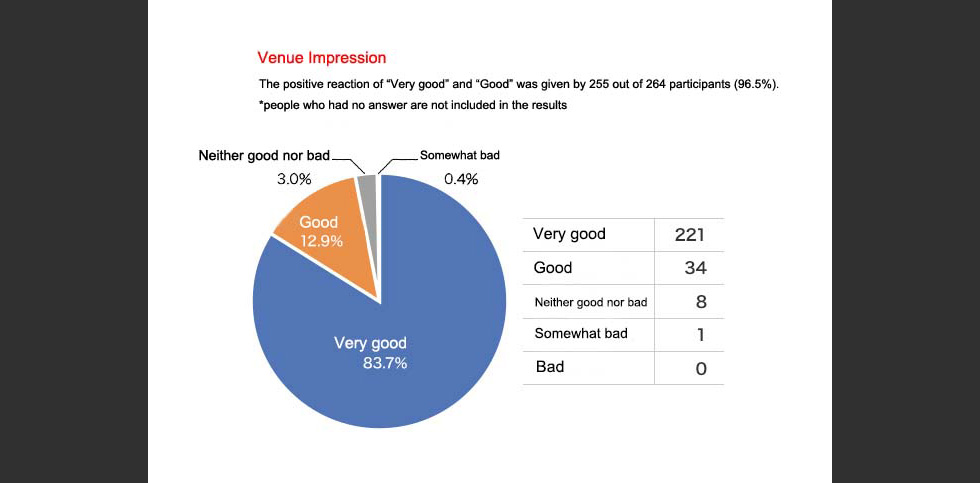 Japan Tourism Agency March 2019 Presentation of "The Unique Venue Utilization Promotion Project to Attract and Expand MICE services"
Next to the above results, more than 90% of the participants answered that they were satisfied with the performances and programs held at the venue and indicated their intention to visit the venue again.
The perfect cultural immersion
Most meetings and events today are still held at hotels and exhibition centers. While these are fine locations, we always notice that our clients want us to input elements of Japanese culture, as the event is held in Japan and naturally want to make use of this. We transform the venue into a location that breathes the Japanese culture. While we pride ourselves on being able to offer this kind of service, we can't deny that when it comes to providing a magnificent atmosphere, a unique venue has an undeniable power and impact that can't be recreated.
A perfect example is
a special event for a global client
we managed on the grounds of a famous Buddhist temple. This authentic and stunning structure has been around for over 400 years and possesses a history and atmosphere that can't be replicated. Imagine the impact of your clients having drinks and making new contacts at a stunning ancient temple. It will associate a strong and impactful image of class and finesse with your brand name.
The same can be said for the
2017 Tokyo Prime Night
where we held the event in a traditional Japanese garden. It thrilled attendees to network in a location that surrounded them with history and pure Japanese aesthetics. It creates a special and unforgettable memory that you won't find at any hotel hall or exhibition center. Combining the location with traditional Japanese performances like kabuki makes the picture complete and displays a perfect example of how cultural immersion can leave a profound effect.
Japan is a country with an astonishing amount of history and culture, and it would be a shame to leave it unused when wanting to offer your attendees an event that they won't forget. Unique venues are exclusive to Japan and bring that extra step in taking your event from ordinary to extraordinary.
At
JTB Communication Design
, we have a long list of successful events under our belt and are happy to support you in bringing yours to life at a unique venue. Don't hesitate in contacting us and let`s start working on making your event the one that people will remember by holding it at an exclusive location!