"70th Anniversary Project" Anniversary Event for a Food Trading Company in Japan
A corporate anniversary is a milestone that ever company treasures. It is therefore that we, as a professional event management company, put great effort in turning a corporate anniversary into an occasion that will last in the memories of all the attendees.

When proposing a plan for the event operation and planning of the "70th Anniversary Project" of a food trading company in Japan, we at JTB Meetings & Events by JTB Communication Design (JCD) began with grasping an understanding of the vision of each employee who acts as an important resource in the company.

Understanding our client's vision before setting up an event is crucial, as the management wants its message towards its employees to be clear and motivating. So rather than just letting it end up as a kind of standard anniversary party, we proposed a plan aiming at improving a sense of unity and fostering the energy of innovation by sharing the company's vision and providing a place for employee interaction across the company`s many divisions. An anniversary event sets the trends and motivation for the coming years, so it must have the right impact on the attending workforce.

With this project, we at JCD managed not only the event`s operation & planning, but also managed the venue sourcing and travel arrangements for all employees, providing solutions with our group company, the JTB Corp. Shizuoka branch office. Our strength lies in this one stop service, where we can provide both the entire event managing process from start to finish, while also combining forces with our travel companions to offer you the complete and best event experience in Japan.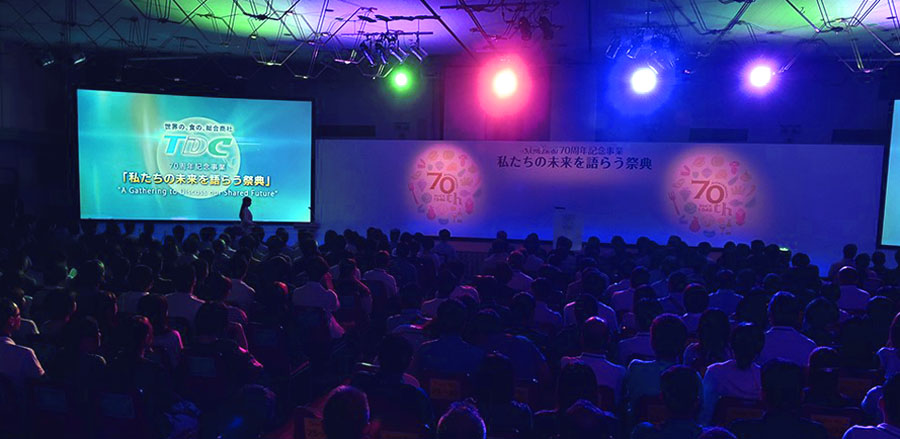 This anniversary ceremony and event took place over the course of two days. The venue on the first day of the event was the TSUMAGOI Resort in Shizuoka, Japan.
On this first day we organized activities with competitions, mixing the various division teams, such as point rallies, quizzes about the company's history, and also established a system where all employees could participate in an interactive matter., bonding with each other and strengthening relationships.
On the second day we aimed for further employee interaction and sense of unity and included showing some snapshots taken during the previous day of the event on a big screen, edited in an entertaining video montage.

We believe that an anniversary event is a very important diverging point for many companies.
We also believe that it is the best timing for a company to innovate and to start something new for the future, making the event not just a celebration of a milestone, but also an opportunity to start new projects, venture on new paths, and bringing the company to the next level, motivating their employees to take on the new challenges.

We at JTB Meetings & Events by JTB Communication Design (JCD) will keep proposing events in Japan that will bring the "Wow" factor and supports the client`s future progress with event operation and planning. Your anniversary event can be something special, something rewarding, something that pushes your workforce to new break new boundaries: work together with us on creating a stunning and memorable anniversary event in Japan. Our team is excited and ready to support your next event!

For more information, feel free to
contact us
,and let's start working on your anniversary event in Japan!