The Forces behind "MANGEKYO"
The Forces behind:Part 1
MANGEKYO
is a show spectacle that aims to wow its audience with both sight and sound. To achieve this, professionals from different industries joined forces.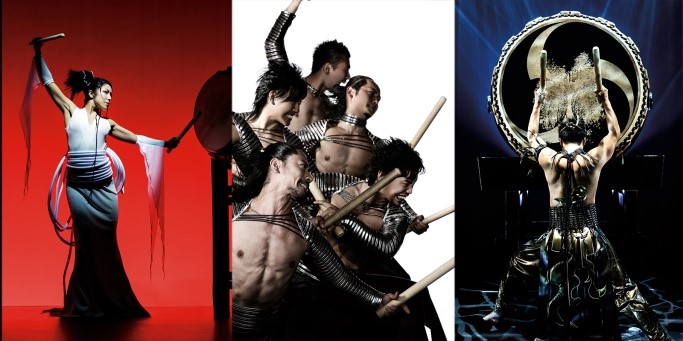 Drum Tao
Praised in the world as "The definitive Japanese form of entertainment", DRUM TAO is one of the most famous nonverbal entertainment drum groups in Japan. Boasting a performance record of reaching 8 million people in over 500 cities in 26 countries.
They were nominated for 4 Tony Awards in 2015 and the production team gathered the following year for the creation of the show TAO, making a great success with their NY off Broadway performance. The activities of DRUM TAO attract worldwide attention from various media outlets.

Ayako Katou
Representing and promoting MANGEKYO in the media is tv host and actress Ayako Katou.
Born Saitama in 1985, she joined Fuji Television in 2008 after graduating from Kunitachi College of Music. She appeared in many programs, including "Mezamashi TV" and "Laughterly". After turning freelance in 2016, she appeared in numerous CMs, magazines and sports newspapers. Currently she hosts the television shows "Honma is Toka!? TV" (Fuji TV), and "Outgoing to the world! SNS English teaching" (NHK). She also had her acting debut in April 2018 in the series 'Black Pair' (TBS).
teamLab
teamLab is responsible for the dazzling project mapping during the show.
The Forces behind:Part 2
To let MANGEKYO stand out visually, stage design and costumes are of essential importance. Stage designer Rumi Matsui and costume designer Junko Koshino joined the production team to implement a strong visual impact with their creations for the show.
【Stage Design】Rumi Matsui
【Costume Design】Junko Koshino
■
Rumi Matsui
After working at the Shiki Theater Company and studying abroad in London, Matsui started her activities as a stage designer and scenographer. She has design over 400 opera and theater productions ever since. She was nominated for a Tony Award for her Broadway debut work in 2004 and OISTAT selected her among "the 12 most prestigious stage designers in the world".
■
Junko Koshino
At the young age of 19 Koshino was the recipient of the 7th SOEN Award. Her first participation as a designer was at the 1978 Paris collection and her fashion shows are held throughout the world ever since, including China, The United States, Vietnam, Cuba, Poland and Myanmar. She also focuses her attention on cultural exchange projects. In addition she designed stage costumes for both Opera and Broadway Musicals, like "Pacific Overtures" (for which she received a Tony Award nomination in 2004), but also for sports units and designs for firework shows. Since 2012 she has been designing costumes for
DRUM TAO
, the stars of the
MANGEKYO
show.
MANGEKYO
is still on stage until
20 November 2018
in Tokyo at the LUMINE ZERO THEATER in Shinjuku! Get your tickets now!
■ For tickets and more information, visit the Official Site:
https://mangekyo-tokyo.com/
■ For questions and contact:
https://www.jtbme.jp/contact_us/conf.html